Hello dear readers, we are writing today on Valentine's Day to share some tips you can do as a couple. Brushing your teeth with your significant other can be a very pleasant experience. This will be very romantic and interesting because it can bond you as a couple. Another plus is that you guys will get superb dental hygiene as a couple. IF all of this interest you the keep reading until the end!
Why dental hygiene is important for our significant other
First let's find a reason together for this article. For some patient this can sound a little strange at first. Dental hygiene is something we are so used to do it alone. But in reality it can be really fun to do it with our partner. And dental hygiene as a matter of fact pays a huge role in relationships. Long story short, the better our teeth look, the more attractive we look.
Besides, kissing is a really important part of any relationship so if you want to please your partner or want to get boyfriend/girlfriend, follow these tips! There is no better sensation than kissing your significant other and feel the fresh breath or see the white teeth. Remember that one of the first things we notice about a person is their smile!
A dental hygiene routine for couples
Valentine's Day is a very especial date for lovers, you celebrate love. One way to come closer as a couple is to do things together at the same time. The more simple and mundane the task the better. It is just very romantic to be with that special someone side by side and just enjoying the company. That is why today I will present to you some example on how to add dental hygiene into the mix.
Brush your teeth together
If you are a faithful reader of out blog you know we strongly suggest brushing your teeth every day. Why not make it really romantic to do it 3 times a day with your significant other? You can set the mood while looking deeply at each other's eyes.  At night you can set some candles to create a really special atmosphere. You will see your teeth shine among the sparks in the air.
Just remember that dental hygiene is so much more than just brushing. Using dental floss and rinsing with mouthwash are also part of a good dental hygiene routine. One advantage of doing this with another person is that you can also give pointers on what to improve. But the best part will be always be to kiss at the end. Your lips will taste so good, so a tasty toothpaste and mouthwash is a good idea.
Drinks and food
Many couples celebrate this day by giving chocolate as present. This is really good and all but I want to remind you to keep the dental hygiene to avoid dental caries. Consuming too much sugar and alcohol can ruin and stain your teeth. Doing your oral care routine after every meal should be enough to keep your teeth neat and clean.
So keep this in mind when you go for your fancy dinner and desserts. One thing I can always suggest is to take care of your breath. For that you can always carry mint candies or sugarless gum. Both are great options to be ready to the hot kissing sessions that follow afterwards. Speaking of which, hydration is also important.
You want to drink at least 8 glasses of water a day to keep you well hydrated. You do not want your lips all dry, you want them to be moist and soft. Sugarless gums helps a lot in this as stimulates saliva production in your mouth. However, being hydrated is the key too.
Dental treatment for couples
Not everything can be achieved at home, so you need a dentist to take care of your smile too. So if you want to look your best for your partner then you have to fix any problem you may have with your teeth. That is why I am going to list some of the best treatment to look the best for your boyfriend/girlfriend.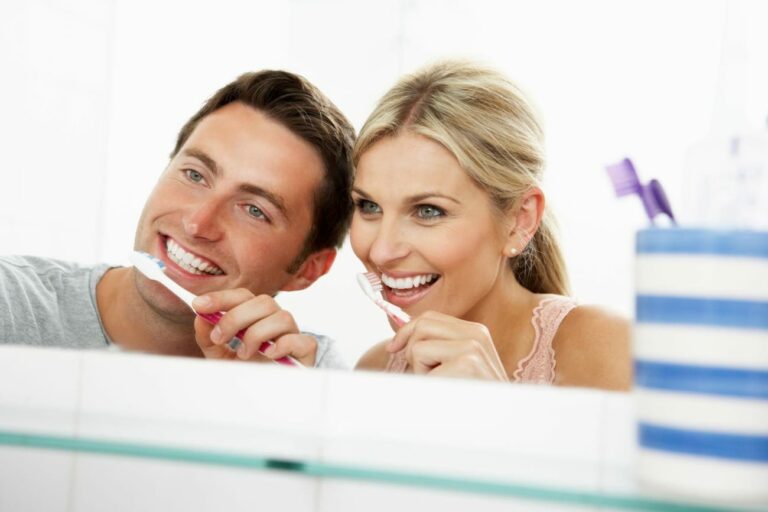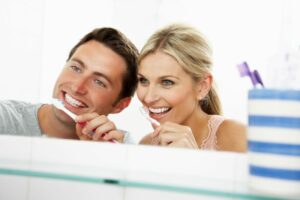 The most common one is with whitening and cleaning. If your teeth look perfect just the way it is a cleaning will be sufficient. Or maybe if they are yellow or stained then whitening will do the trick. As I said before an attractive smile makes us look really good. If maybe crooked teeth are your problem, then braces can straighten so you can look like a celebrity.
Broken and chipped teeth will be no problem because you got fillings and crowns to fix it. Porcelain veneers are really cool and popular to make a smile look really good for any budget. Just remember that visiting your dentist every 6 months is necessary to keep good dental health. And if you plan these appointments with you partner will also bring you guys together.
Date at the dentist?
Going together at the dentists definitively is a little strange but I have seen it before. I think is really cute when couples take care of their teeth together. I have seen many romantic gesture at the dental clinic. One example I can give are presents for their husband/wife. Like new dentures or dental implants just so they can smile again, with a beautiful smile.
Couples that are going to marry soon also tend to come to look their best for their wedding. So if this sounds romantic for you can reach us to make your appointment soon! It is easy as just filling the form above or calling us at business ours. I want to finish things up by saying that love is more important than just looks, the most important thing is to express yourselves and take care of your significant other through good and bad times.
I think we can all agree that all you need is love and love is all you need. See you next time!