Looking for a reliable dental clinic in Los Algodones?
Look no further than Dental Solutions Clinic!
Discover the top 5 reasons why Dental Solutions Clinic is the ideal choice for all your dental needs in Los Algodones.
From experienced Los Algodones dentists to a reputation for excellence, Dental Solutions offers a comprehensive range of services that make them the go-to dental clinic in the area.
Let's delve into the reasons why you should consider Dental Solutions for your dental care.
Exceptional Dental Care Services in Los Algodones:
As a leading dental clinic in Los Algodones, Dental Solutions Clinic provides a wide range of treatments to cater to all your dental needs.

From routine cleanings and fillings to more complex procedures such as dental implants, we offer comprehensive dental care for patients of all ages.

With state-of-the-art facilities and cutting-edge technology, Dental Solutions ensures that you receive the highest quality of dental care in a comfortable and relaxed environment.
Highly Qualified and Experienced Los Algodones Dentists:
At Dental Solutions, you can rest assured that your dental health is in capable hands.

Driven by a team of highly skilled and experienced dentists, including the renowned Dr. Xochipilli Bojorquez, is committed to delivering exceptional results.

Dr. Xochipilli, known as the best dental implant doctor in town, brings a wealth of expertise and a proven track record in successfully performing dental implant procedures.

With their expertise, the clinic ensures that you receive personalized and effective treatments for your dental concerns.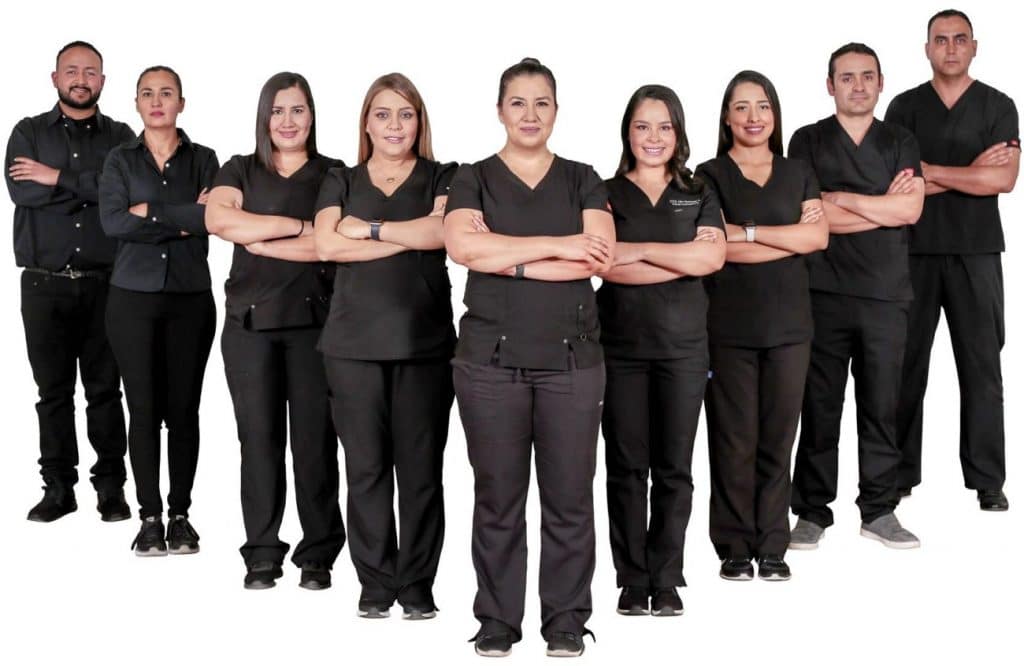 Cutting-Edge Technology and Advanced Treatment Options:
Dental Solutions keeps pace with the latest advancements in dental technology to offer its patients the best possible care.

From 3D Scanner to Guided Implant Surgery and CAD/CAM Systems, they leverage state-of-the-art equipment and techniques to provide accurate diagnoses and precise treatments.

This commitment to staying at the forefront of dental innovation ensures that you benefit from advanced treatment options that are both efficient and minimally invasive.
Warm and Welcoming Atmosphere:
When it comes to dental care, a warm and welcoming environment can make all the difference in easing anxiety and ensuring a positive experience.

Dental Solutions takes pride in creating a comfortable atmosphere for their patients.

From friendly staff members to a clean and modern facility, they strive to make every visit a pleasant one.

By fostering a relaxing environment, they aim to build lasting relationships with their patients based on trust and open communication.
Convenient Location in Los Algodones:
Located in the heart of Los Algodones, Dental Solutions offers convenience and accessibility for patients seeking dental care.

The clinic's central location makes it easily accessible for both locals and visitors, eliminating the hassle of traveling long distances for dental appointments.
When it comes to finding a reliable dental clinic in Los Algodones, Dental Solutions stands out for numerous reasons.
From their comprehensive range of services to the expertise of Dr. Xochippilli's "The Dental Implant DDS", they prioritize delivering exceptional dental care.
By embracing advanced technology, creating a welcoming atmosphere, and offering a convenient location, Dental Solutions strives to exceed your expectations.
Trust your smile to the experts at Dental Solutions Clinic, and experience the difference they can make in your dental journey.
Don't wait any longer to achieve a healthy and confident smile. Book your appointment now!