Dental bridges are the solution for people who have lost one or more adjacent teeth and cannot opt for individual dental implants. A bridge is a prosthesis set to fill the space left by one or more missing teeth.
It is important to replace missing teeth as soon as possible, because  the remaining teeth will rotate and move, causing improper occlusion, while also increasing the risk of developing gum disease and mandibular joint dysfunction.
What is the process for bridge installation?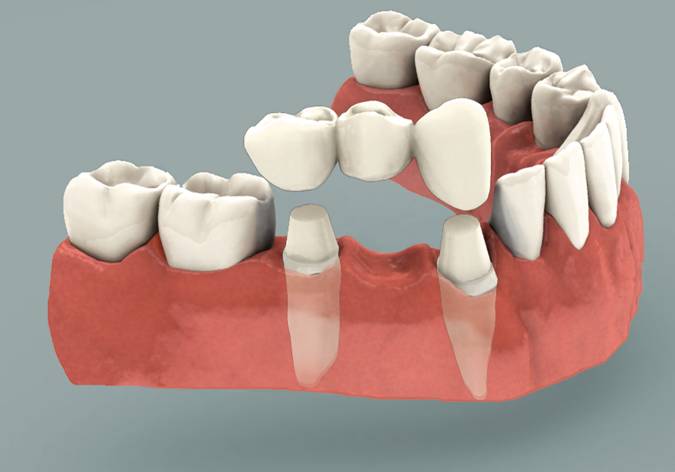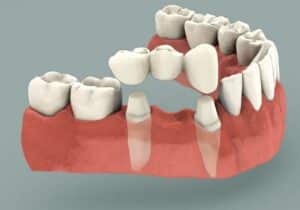 A bridge needs to have at least two adjacent teeth or individual implants on both sides of the space to be restored. These teeth are called abutments and acts as pillars to support the bridge. The false teeth placed between abutments are called pontics. The process begins by preparing the abutments, which may need a root canal or reconstruction. The pillars teeth are filed down by the dentist, using the same process used for a dental crown. After this, the dentist will take impressions for designing your custom bridge.
On the next appoinment, the structure that will support the porcelain teeth will be fixed to the teeth. The bridge can be made of the same materials used for dental crowns (metal, porcelain or zirconium). The aim is to make sure that the structure fits perfectly and that the union between it and the pillars is perfect. The dentist will test it to ensure that the bridge has an adequate color, size and separation. After a few adjustments, the dentist will fix the bridge in its final position.
One advantage of dental bridges to replace missing teeth is that it doesn't requires surgery. Bridge installation is quick, simple and doesn't require rest after the procedure. Its lasts for approximately 8-10 years if cared for properly, emphasizing in pillars cleaning to avoid cavities and gum diseases.
Types of bridges
The professional staff at Dental Solutions Los Algodones will help you to find the rigth choice for your budget and needs. You can opt between these types of briges:
Traditional: a crown for the tooth or implant is made, with in a pontic in between They are made of ceramic or porcelain+metal.
Cantilever: is done by using one abutment tooth, if there is only one adjacent tooth at either side.
Maryland: this bridge is supported by a metal frame or porcelain, that will be held by the back of the the pillars teeth, making it ideal for those who want to restore missed front teeth.
You can check our prices list here.