All-on-4 Treatment in Los Algodones
The loss of the whole dentition is a huge cosmetic and health problem. The facial features change, as the chin protrudes, lips lose volume, the corners of mouth falls and facial muscles lose tone. Also, the tongue moves back and reduces the oral cavity. These changes affects speech and hearing, as it may affect the Eustachian tube causing hearing loss.
The loss of teeth of the upper jaw, breaks lip harmony, flattening the mouth and hardening expression while the cheeks sinks. Moreover, the loss of the upper teeth creates problems in phonetics, because  words can't be pronounced properly. Also, chewing function is seriously compromised! This is why dental implants are more than a cosmetic problem, they become a necessity.
For those who want to regain their smile quickly and permanently, the answer lies in the All-on-4 treatment
What is the All on 4 treatment?
The All on 4 is a technique that replaces missing teeth with a complete dental bridge, supported only with four titanium implants placed into the jawbone, where bone density is higher, ensuring the osseointegration of implants and the complete retention of the prosthesis.
The big difference between individual dental implants is that this technique requires only four implants to support the entire bridge, which reduces costs, avoids the need for bone grafts in the jaws, and its faster and more efficient. With the All on 4 immediate results and a much quicker recovery are guaranteed. In fact, 98% of patients undergoing this procedure are completely satisfied with the results and claim that their quality of life has increased after it.
What are the advantages of the All on 4?
Often when teeth are lost and not immediately replaced with implants, a significant bone loss ocurs in the jaw bone, not having the stimulation from pressure from the upper and lower teeth. The bone begins to reabsorb itself, as much as 25% after the first year of tooth loss.
This means that when making a dental implant it is necessary to subject the patient to a surgical procedure to graft bone tissue from other bones. The recovery period for this procedure may vary between 3 and 6 months, and only after this process is that a dental implant can be made. The bone grafting procedure is not an issue when it comes to one or two pieces, but can be a long and expensive treatment with people that need to replace a large number of teeth or the whole dentition.
With the All on 4 dental implants, it's possible to avoid the bone graft, as only four titanium implants are inserted into the jaw (area with a higher bone density) to fit a full bridge that replace all missing teeth. This makes it a fast and safe treatment for the patient.
As only 4 titanium implants are used, the All on 4 is much cheaper than individual implants. Also, being a less invasive surgical procedure, recovery is faster and easier. After fixing the implants, a temporary prosthesis can be placed, which will be replaced by a permanent one on the next visit; so you can see the aesthetic and functional results immediately.
All on 4 implants prevents bone loss, it's comfortable, lasts for approximately 10 years and offers great stability compared to removable dentures.  In addition, the aesthetic result is unbeatable: your teeth will look completely natural and the implant does not require any special care or adhesives.
After this procedure, you'll enjoy all your favorite foods and you'll be able to smile without shyness.
Why Dental Solutions is the best center for this treatment?
We are more than a professional center for health and cosmetic dentistry, we are one big family, working together to achieve a common goal: the wellbeing and a high quality life for all our patients.
In Dental Solutions we have the most professional and knowledgable doctor for this treatment:
Dr. Xochipilli Bojorquez
. She has spent her entire professional life specializing in this dental treatment, learning directly from the creators of this technique:
Nobel Biocare
. She has studied in Portugal, Spain, Korea and Harvard; and was recognized by Nobel Biocare as
the professional with more successful All on four treatments at the regional level
in 2012.
We don't only have the best caring and prepared professionals, we also use quality materials, technology and implements; the same as those used in the best dental clinics in the United States and Europe, but with the most competitive prices of the Mexican market.
Schedule today your appointment for an All-on-4 
using this form
 and get a $500 discount for a full mouth treatment
Here you can see some reviews from our past clients: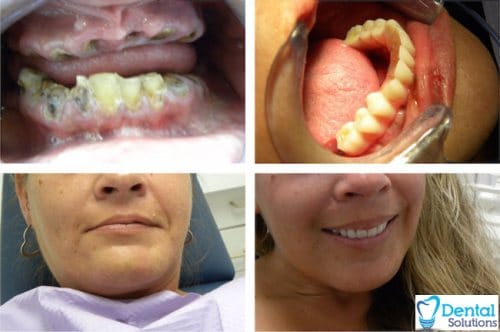 The allonfour procedure was a great decision for my teeth. Dr. Bojorquez after my exam was honest and told me that I really only had 3 to 4 teeth that were not too bad. I was feeling nervous for the surgery, but after few hours I was leaving the clinic with my new implants. I would suggest everybody who is thinking about doing this to be courageous enough to do it.


I had all my teeth extracted and felt no pain whatsoever. I would certainly do it all over because now i can smile again. The doctor (Dr. Xochipilli) was very professional and friendly. Great place to have the All on 4 or All on 6 procedure in Los Algodones.

If you wish to see more reviews, you can see them in our Reviews Page.
What's the price of the All-on-4?
This treatment is done per arch. So, for a full mouth implant you'll need 2 treatments, one for the top arch and one for the bottom.
The all-on-4 is performed in two phases: In the first one, after the CT Scan the implants are put and a temporary denture is placed, for 6-8 months. And after that comes the second phase: the implants become fixed to the jaw bone and the permanent fixed denture can be placed.
The prices are as follow:
First pase (6 days)
Ct scan – 150 USD
4 implants  – 4,400 USD
Temporary fixed denture – 600 USD per arch
Total Price: 5,150 USD
Second phase (6-8 months later, 6 days)
Permanent fixed denture – 3,750 USD per arch
Total price: 8,900 USD, per arch.
If you want a $200 USD 
discount
for an All-on-4, schedule today your appointment
using this form