Veneers are thin, custom-made shells of porcelain or resin, designed to be cemented to the front of the teeth with a special adhesive. Veneers cover teeth surfaces like a cap, hiding blemishes, stains and other imperfections; creating a whiter, brighter and attractive smile.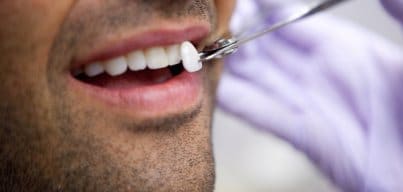 Procedure
Before attaching a dental veneer, the dentist should solve any health problems that each tooth may have. Fillings or reconstructions have to be done before applying veneers, as veneers are a purely aesthetic procedure and not corrective.
The dentist will take an impression of your teeth, in order to model every veneer independently. In the second appoiment, the tooth will be prepared to put the veneer by removing a small portion of the tooth enamel, about half a millimeter. This will provide a rough surface which will facilitate the work of the adhesive and will even the surface. Then, each veneer will be cemented in place.
It is important to remember that veneers are not removable and it is a final and lasting treatment.
Advantages and uses of dental veneers:
Veneers provide a completely natural look, since each tooth is covered perfectly hiding spots and blemishes without altering its shape.
Covers fractures: veneers can cover and restore the form and function of cracked, chipped or broken teeth.
Filling dental gaps: for widely spaced frontal teeth, veneers can be placed to fill that space and makes the smile more aesthetic.
Corrects the shape of the teeth if the tooth is too short or has a bump, a veneer can restore its appearance.
Enlarge teeth: ideal for restoring gummy smiles, caused by too small teeth, a veneer can lengthen a tooth and solve this problem.
Whitens teeth for extreme cases, in which a bleaching laser treatment or gel is insufficient, dental veneers can make your smile look much brighter
You can check our prices list here.