Dental Implants in Los Algodones
Dental implants are the most aesthetic and durable way to replace missing teeth. In fact, it has completely changed the state of dentistry industry in the last quarter century since it is a permanent solution and provides an almost identical appearance  to natural teeth.
The process of placing dental implants requires inserting a metal piece in the jawbone, below the gum through a simple surgical procedure. This piece, made of titanium (a lightweigth, strong and biocompatible material) replaces the tooth roots and, after healing, will support porcelain crowns that will replace the missing tooth, giving an appearance and feeling almost identical to the natural teeth.
In order to assure the success of this treatment its vital that the materials used are of the highest quality. We only use only the best dental implants made of titanium. It's top of the line material that guarantees the osseointegration of the bone implant.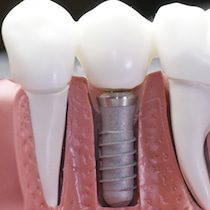 Advantages of Dental Implants
A removable dental prosthesis can be uncomfortable for many people, aside from causing irritation, removable dental prosthesis can slide when chewing and  needs adhesives and special care. However, dental implants are fixed, so the patient does not have to establish special routines aside from normal brushing. Furthermore, implants provide a permanent option of replacing one or more teeth with a completely natural look.
At first glance, you cannot tell the difference between a natural tooth and an implant made in Dental Solutions.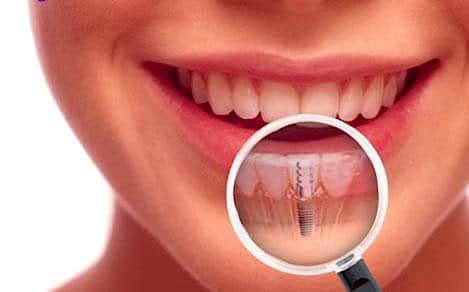 Dental implants preserve natural dental tissue, thus avoiding the wear of adjacent teeth from setting a prosthesis. Moreover, it last longer and its more efficient when eating and talking than a dental prosthesis. One of its main perks is that  it prevents the reabsorption of bone tissue, typical in the use of removable dental prosthesis.
Are you a candidate for this treatment?
In general, if you have lost one or more teeth and wish to replace them permanently, you are a candidate for dental implants. However, it's important that you are in good health and not suffering from certain conditions that may affect proper healing and integration of implants. For example: uncontrolled diabetes, cancer or uncontrolled periodontal disease.
Dr. Xochipilli Bojorquez and all the staff from Dental Solutions Los Algodones have the training and experience necessary to make the proper diagnosis and recommend the best treatment for your particular needs, providing constant support and aftercare advice to ensure the maintenance and durability of the implants.
You can check our prices list here.