Like any medical procedure, the All-on-4 implant procedure has its own risks. We've written before about the several benefits associated with an All-on-4 dental implant and how this treatment can improve the life of patients by replacing missing teeth, but it is also important to consider what could potentially go wrong with the procedure. Let's see what are the All-On-4 dental implants problems and the steps you should take to avoid them.
According to statistics, All-on-4 procedures have a success rate of over 97%, lasting for at least 10 years. With good care, dental implants can act as permanent teeth for 30 years and even more, being the best solution for teeth loss and avoiding bone loss.
Among the benefits of this procedure is that the patient can recover their smile, eat all their favorite foods again and avoid gums and bone issues. When performed by experienced dentists, this is a routine procedure with very low risks.
The main reasons why the treatment could go wrong are not doing the proper post-care or having the surgery done by a bad surgeon. That is why it is essential to trust an experienced dentist and pay careful attention to the aftercare.
By understanding the implant surgery and how the mouth recovers after a procedure like this one, we can see the problems that could arise, how to prevent them or how to act if something happens.
There are 3 major aspects to consider: the risks during the surgery, implant failing, and problems with the fixed denture that is placed after the implants are healed.
What could go wrong during dental implant surgery?
The All-On-4 is one of the most popular treatments to replace missing teeth and even though it can replace a full arch it is a quite simple procedure. The surgeon will place four dental implants made of titanium in the jawbone; each dental implant will act as the tooth root for a dental crown, a bridge, or fixed dentures.
The experience of the surgeon performing the surgery will be one of the most important factors that will determine the success of the treatment. Our specialist, Dr. Xochipilli Bojorquez is one of the best implant surgeons in Mexico, with over 8 years of experience.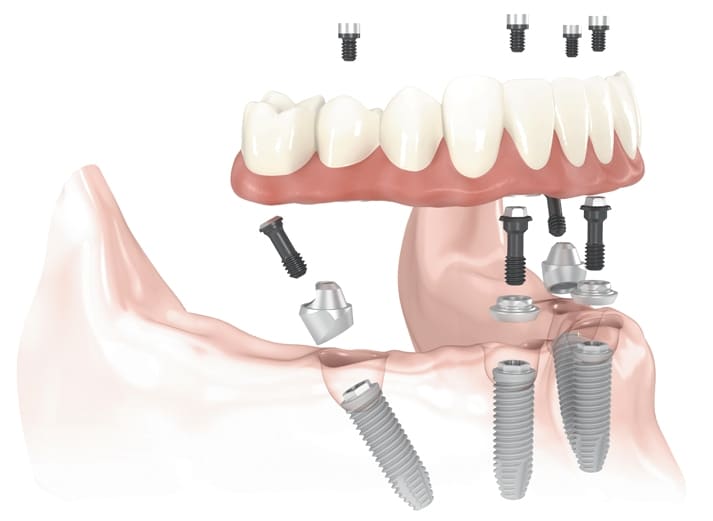 The common setbacks during the surgery are excessive bleeding and anesthesia-related risks. To prevent any risks your doctor will order blood tests to check on coagulation, hemoglobin, and other factors. If the patient has any medical conditions such as diabetes or high blood pressure, some precautions should be taken.
This treatment can be done using only local anesthesia, but some other options are available to provide more comfort and a relaxing experience. Your doctor will walk you through your choices so you can make informed decisions.
Many patients prefer to be asleep during the procedure, in these cases, an anesthesiologist will be present during the surgery.
During the whole treatment, Dr. Bojorquez will take every aspect into consideration to prevent possible risks and guarantee that you have a comfortable experience and long-term success.
Risks with the dental implants
Perhaps the most concerning risk is the possibility that at least one implant fails, either because it was misplaced, the aftercare was not done correctly, or because the bone didn't heal appropriately.
The medical reasons that could cause dental implant failure are insufficient jaw bone density and gum disease. During your initial consultation, our dental professionals will perform several exams, x-rays and CT Scans to ensure that there is enough bone to support the implants and that your gums are healthy so the area can heal properly and avoid infections.
Recent studies have shown that consuming alcohol and tobacco during the first few weeks after an all-on-4 procedure may increase the risk of implant failure, as both of these products have a detrimental effect on the healing process. Fortunately, even if it's bothersome, an implant failure has few consequences; due to the simplicity of the process, your dentist can easily set another appointment to replace it in a single sitting.
In Dental Solutions, we take every precaution to make sure that the implants won't fail, first, by having experts in All-on-4 treatment, such as Dr. Xochipilli Bojorquez. Secondly, by using the best dental equipment and the latest technology available, your safety and well-being is our primary goal.
Problems with the new teeth
On the other hand, the permanent denture, crowns, or bridge that will be fixed to the implant can also present its own share of issues. One of the most common mistakes new dentists make when placing all-on-4s is to make the final denture from acrylic or plastic.
While this could work in theory, these materials tend to stain very quickly, and they accumulate food residues and tartar, which may lead to gum disease and affect the remaining teeth.
It's not that big a deal when used for temporary dentures, since they can be removed and cleaned, but it is not a good choice for the All-On-4.
Right after the 4 dental implants are placed, your surgeon will place a temporary removable denture that you will use until the healing time is done. The dentist will give you instructions about how to use and take care of your mouth and this denture to avoid infection and pain.
To avoid complications with these temporary teeth and the implants, you must only eat soft foods and chew carefully during the first weeks.
Once the healing process is done, the patient can have their final teeth. With the All-on-4 dental implants, the patient can have a full set of new teeth and show a perfect smile again.
All-on-4 dentures should be made out of zirconia or fused porcelain, which isn't just easier to maintain, but also has a lower risk of chipping or fracturing. And in case it does happen, the dentist can easily fix or replace the denture as needed.
Dental implants and bone grafting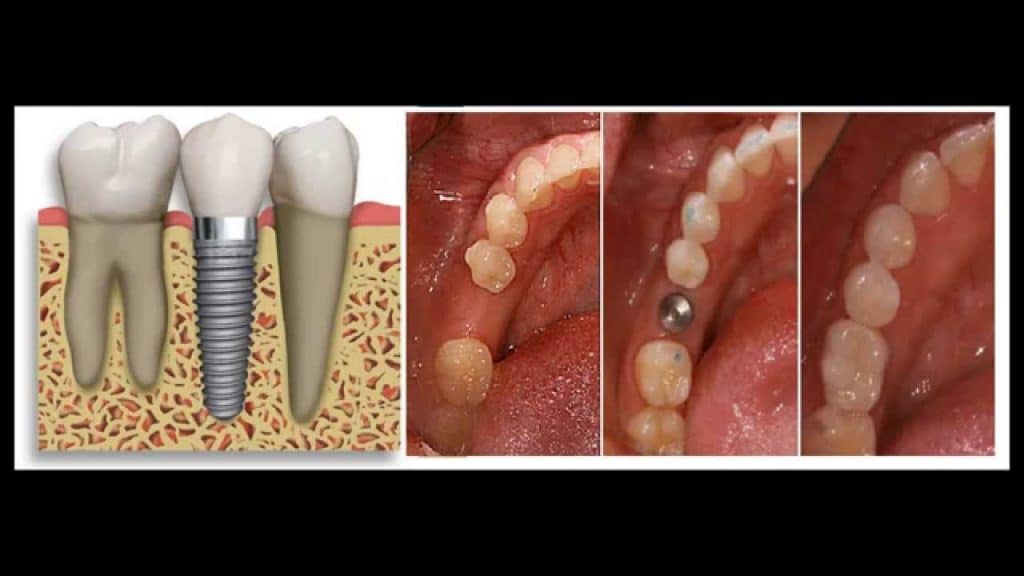 As we mentioned before, one of the reasons why dental implants may fail is having insufficient bone tissue. Bone loss is a direct consequence of losing natural teeth; when there is no tooth root to stimulate the tissue, it starts to reabsorb, causing improper occlusion, chewing problems, and even jawbone deformation.
If the patient doesn't have the proper jawbone structure, an All-on-4 procedure can't be performed since the implants won't have enough tissue to hold on to. Luckily there is a solution to this problem, bone grafting surgery.
This is one of the most common implant dentistry procedures in which the dentist inserts a new piece of healthy bone in the affected area to restore the jawbone structure. After the healing time is completed, the patient will be eligible for the All-On-4 implants.
How to avoid complications during the recovery time
Taking good care of your mouth after the procedure is essential to ensure the success of the treatment. After the procedure, our dental professionals will give you specific instructions about how to take care of your implants and prosthetics.
It is important that right after the procedure, the patient avoids brushing since it can cause damage to the wound and undo the stitches. It is recommended that patients avoid eating food that is too cold or too hot, drinking through a straw, and using mouth wash.
Two days after the procedure patients must start carefully brushing their teeth after every meal, making sure to remove food remains, clean the tongue, and especially the gums and implants.
Cleaning the implants and teeth will prevent infection, make the wound heal faster and ensure the best result for the treatment.
Pain can be treated with over-the-counter medication, such as ibuprofen or any other medicine prescribed by the dentist.
While eating, the patient must chew carefully to not hurt themselves. It is recommended to not drink coffee and alcohol during the recovery time, as well as not eat hard food like apples, candy, or ice.
When should you call your dentist?
If after the procedure or during the recovery time you notice any of these symptoms, you should contact your dentist:
Fever.
Excessive swelling or bleeding.
Pain that doesn't fade with over-the-counter medication.
Headaches or dizziness.
These symptoms can be a sign of infection and they should be treated as fast as possible to avoid other complications. Your dentist will prescribe medication to treat the problem. In cases where it is absolutely necessary, patients will visit the dentist's office for a check-up consultation.
All-On-4 dental implants in Dental Solutions Los Algodones
In Dental Solutions Los Algodones we are specialists in implant dentistry and our team of qualified dentists will be happy to assist you in any procedure that you need. Our clinic is well-known among patients for our All-On-4 implants success rate and low prices.
We are part of the American Dental Association and work by the same standards as clinics in The USA and Canada, so, if you have missing teeth and want to recover the beauty of your smile, this is your opportunity. Contact us to schedule your first visit and get a free consultation to start your implant journey.
Our Los Algodones clinic is conveniently located near the border and we have the latest technological equipment to offer our patients the best experience, the benefits, and the happiness of restoring their smiles.